Intermercato Grabs - European quality built grabs for every purpose and every machine.
Intermercato Grabs & Grapples has specialised in the manufacturing of grabs, grapples and rotators for excavators and cranes from 500kg to over 30 tonnes capacity for nearly 20 years. Intermercato has an extensive range of grabs including log grabs, residue grabs, stone grabs, universal grabs, demolition grabs, loader grabs and clamshell buckets.
If you are a serious contractor who doesn't want to waste time, do the job faster with the right self centring grab for the job.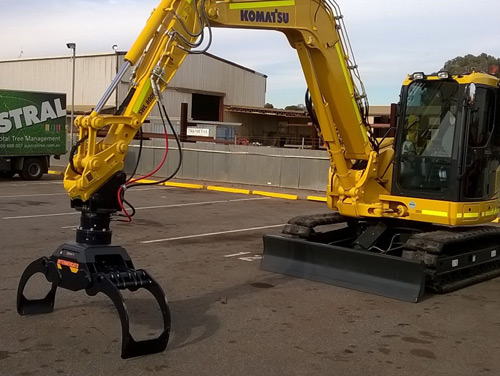 ---
Log Grabs - for Excavators and Cranes
Intermercato Log Grabs are suited to excavators and cranes from 500kg to 40 tonne capacity and are suitable for cardanic suspension and rigid mount applications. The excavator series are made from HARDOX for extra durability with greaseable pins and bushes throughout. We are a leading supplier of grabs and for HMF, HIAB, Palfinger, Fassi, Pfeffer, Ferrari, axilift and more.
Log grabs for excavators and cranes are all of the modern bypass design, allowing wide opening widths & capacity but still allowing very tight closing gaps. Intermercato log grabs are designed to grip and ACCUMULATE LOGS and the fixed teeth don't bite into logs giving faster bundling & high productivity.
Log grabs are the choice for stacking logs with forwarders, log sorting and often for feeding chippers.
The crane log grab series is lighter duty than the excavator grab models as a crane grab doesn't have to put up with the extra stresses of dragging logs. This maximizes the capacity of your crane, yet still ensures a long life.
All grabs for excavators and cranes have the following features:
Belly plate to protect cylinder underneath - designed for minimum downtime.
Every pin greaseable with protected grease nipples - designed for a long life.
High clamping forces with oversized pistons - allows secure gripping of any load.
Excellent bundling geometry - giving rapid productivity.
All excavator series made from the highest quality steel available - HARDOX.
Built by a company specialising in grapples and grabs for nearly 20 years.
Safest log loading on the market with overcentre valves.
All grabs can be matched with Intermercato's line up of 360 degree continuous rotators.
Choose from our full range of grapples and grabs.
Contact us to discuss your requirements.
---
Intermercato Grabs Gallery