Demolition and Sorting Grabs come standard with a fixed mount and generally with an optional heavy duty rotator.
Demolition grabs are designed to hold a variety of construction materials. Intermercato Demolition Grapples are suited to excavators from 1 tonne to 35 tonne operating weight.
Demolition Grabs generally come standard with a fixed mount to allow the excavator to put its whole weight onto the grapple to tear buildings down fast for maximum productivity and efficiency. The wide jaws allow gripping of large surfaces and an all-hardox construction means its your grapple is going to last. Bolt on cutting edges allow minimum downtime when they need refacing.
Demolition and Sorting Grabs are the choice when only the toughest grapple will do.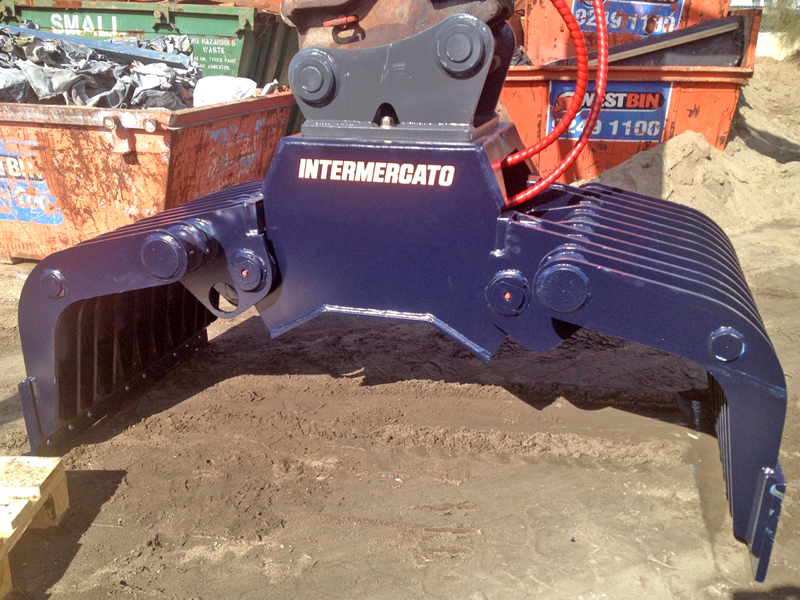 All Demolition and Sorting Grabs have the following features:
Fast sorting as material is picked up on the cutting edges - no need to fully close each time.
Perfect for sorting out mixed materials, concrete blocks and even small pieces of metal.
Belly plate to protect cylinder underneath - designed for minimum downtime.
Every pin greaseable with protected grease nipples - designed for a long life.
High clamping forces with oversized pistons - allows secure gripping of any load.
Excellent wide opening geometry allowing rapid productivity.
All excavator series made from the highest quality steel available - HARDOX.
Built by a company specializing in excavator grabs and grapples for over 20 years.
Safest loading on the market with overcentre valves as standard.
Demolition and Sorting Grabs are matched with a super heavy duty Intermercato flange-mounted 360 degrees continuous rotator.
If you need to bunch waste with a finger style grab - go straight to our Universal Grabs Page.
---
Catalogue (PDFs)
Demolition Sorting Grab Tilt Rotator TG15-30DG All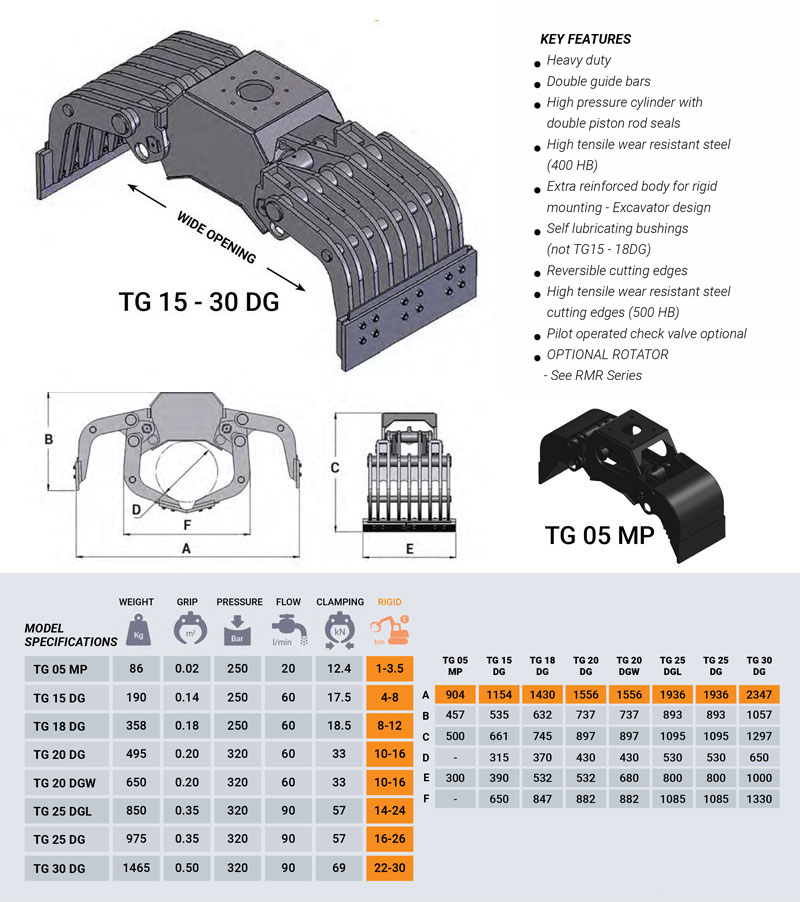 ---
Demolition and Sorting Grabs Gallery
---
Video Gallery