Do you want to turn your skid steer or loader into a forestry productive log skidder? Then this is the product for you!
Log skidding grapples are designed for skid steers and loaders from 30hp to 110hp. Option of full hydraulic rotation or manual rotate.
We are able to customise to your requirements with a range of over 100 grabs and rotators. Contact us with your machines details.
Only have one set of auxiliary outlets? No problem! A six port hydraulic-electric solenoid is mounted on the jib to allow changing between grab and rotate.
---
For information on log skidder grapples for 15hp to 30hp mini loaders, view our range of mini loader grapples.
---
All log skidding grapples have the following features:
Continuous 360 degree hydraulic rotation or manual rotator.
Grapple designed & built by industry specialist with over 20 years experience.
All grease nipples fully protected.
Self centring jaws give a perfect grip on every load.
Hanger design allows loaders mast to stay low for stability & capacity.
All working pins heavy duty, minimum 25mm, 4140 chromed hardened steel.
Low weight to maximise loader capacity
---
Catalogue (PDFs)
Model 1300 and 1800BC - Log Skidding Grapples
Designed for skid steers and loaders 30 - 110hp. Hydraulic endless rotator - 360 degrees continuous movement.
Features: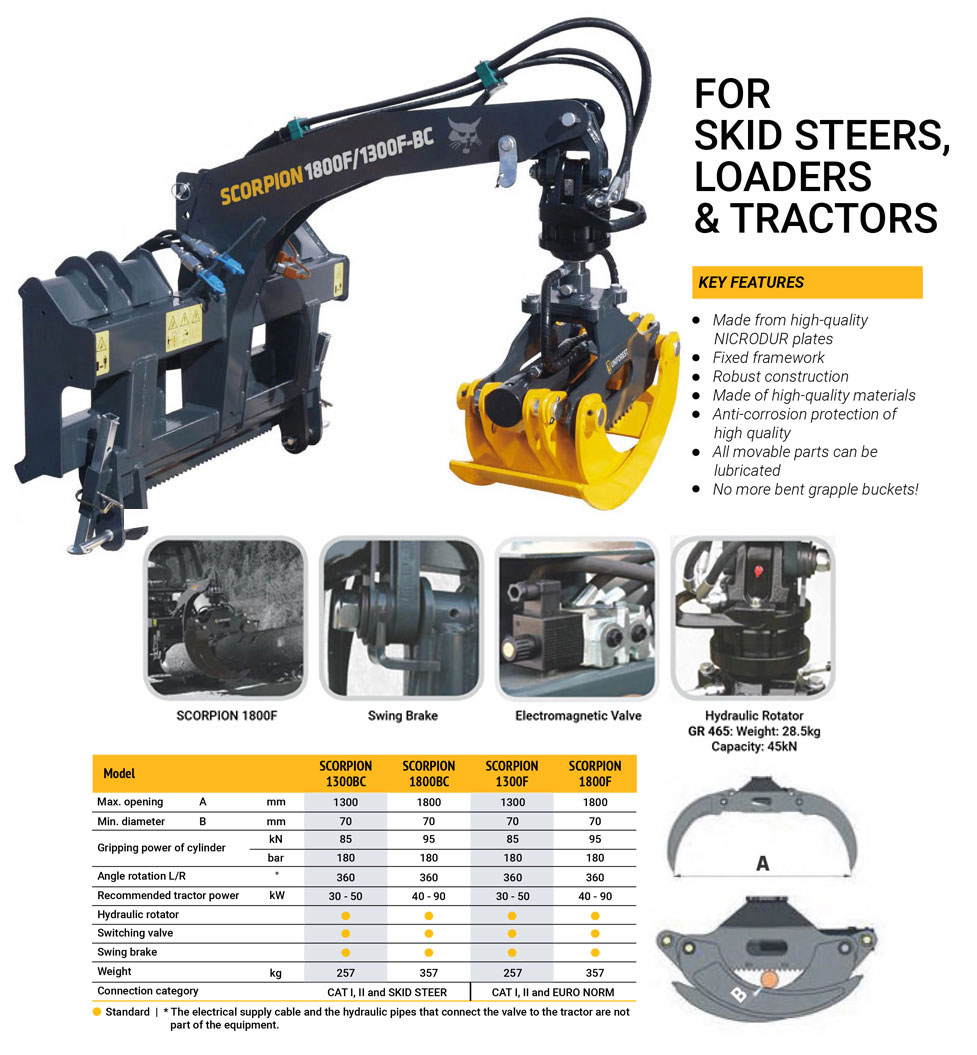 Need to go bigger? Contact Us today!
---
Loader & Skid Steer Grapples Gallery:
---
Video Gallery
Log Skidding Grapple on skid steer
ASV PT30 Bobcat owned by Macedon Ranges, Victoria.