Tractor Log Skidding
Uniforests three point linkage and front end loader log skidding grapple is a true bypass grapple, far stronger than the old clamp style grab.
This design also allows efficient self centring of the logs which easily roll-in and roll-out. Recommended is 40-90kW.
The Scorpion 1300F and 1800F is designed to fit your front end AND the three point linkage.
1300F for smaller tractors, 1800F for larger.
The tractor log skidding turns your farm tractor into a productive forest machine.
Keep those rising utility costs at bay and start making money today!
Why consider a three point linkage log skidding grab?
Skid large logs out of the forest for easier processing on safer ground.
Small trunks, brush and slabs can be kept clean by lifting clear off the ground and driven straight out.
Stack material with the heel bar or lift just off the ground so they aren't hung up when towing.
Rotator allows stacking of logs at the end of the job. Plus rotator allows for tighter turning in rows.
Head board plate allows easier bunching of logs, forming neat piles and protects the tractor when reversing.
Robust design for years of hard use - boxed in jaws for extra strength, large diameter rams and pins.
Easy mount up for three point linkage tractors with Category 11 hitch.
Six port solenoid included as standard – only one set of auxiliaries required.
Front weights are recommended for for stability.
---
Catalogue (PDFs)
Model 1300 and 1800BC - Log Skidding Grapples
Designed for three point linkage mounting and front end load mounting with Euro Hitch. Suits tractors 40-90kW. Hydraulic endless rotator - 360 degrees continuous movement.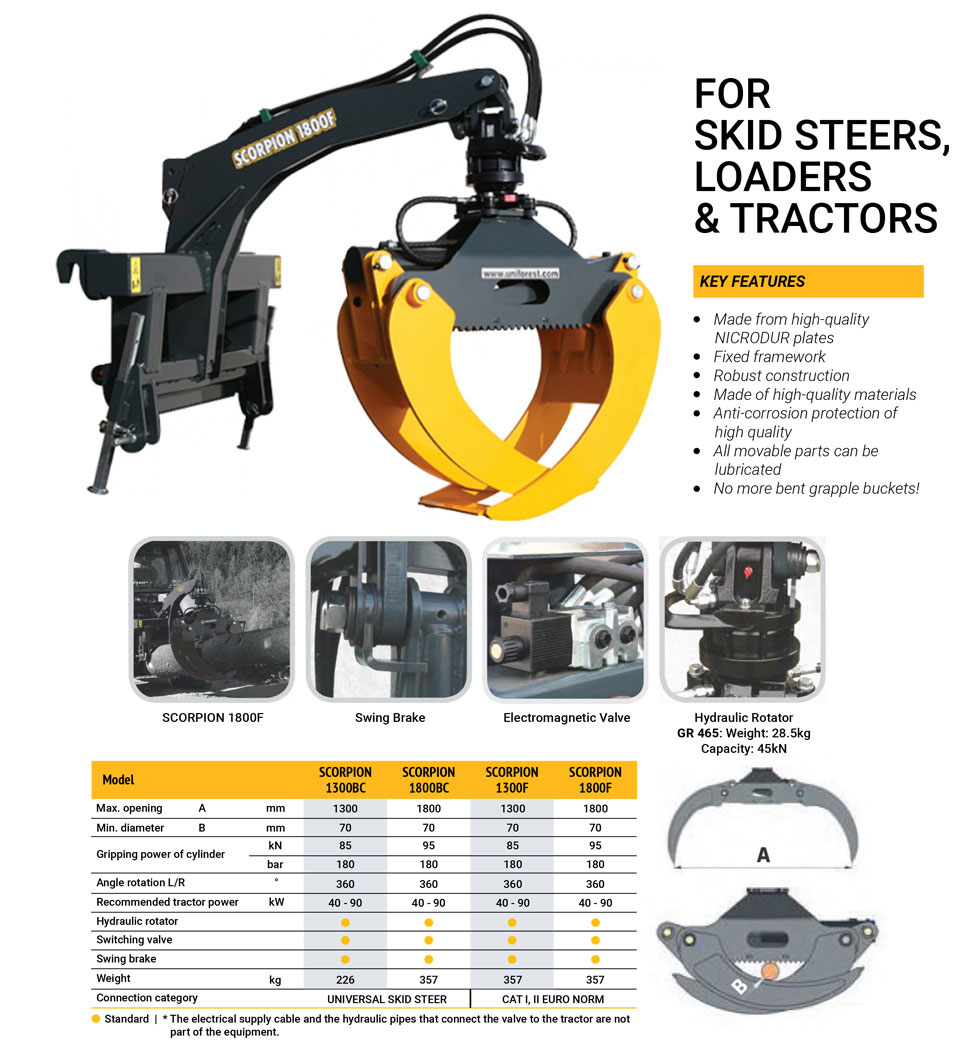 Need to go bigger? Contact Us today!
---
Tractor Log Skidding Video
Choose from our full range of grapples and grabs.
Contact us to discuss your requirements.
---
Tractor Log Skidding Gallery